John Paul Phelan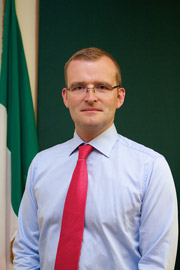 Deputy John Paul Phelan is a Fine Gael TD for the Carlow – Kilkenny constituency. He was elected in the 2011 general election. Deputy Phelan is a member of the Committee on Justice, Defense and Equality.
Prior to entering national politics, Deputy Phelan was elected to the Kilkenny County Council (1999). Before taking his seat in the Dáil, Deputy Phelan was elected, on the Agricultural Panel, to the Seanad (2002). He was re-elected in 2007. During his time at the Seanad, Deputy Phelan worked as Fine Gael's spokesperson on finance and, later, on trade and employment.
Deputy Phelan is a business graduate from WIT and has recently qualified as a barrister.
The Committee