Pearse Doherty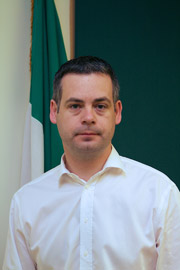 Deputy Pearse Doherty is a Sinn Féin TD for the Donegal South-West constituency. He is the party spokesperson on finance.
Deputy Doherty served on the Donegal County Council from 2004 to 2007 and in Seanad Éireann from 2007 until 2010. He was elected to Dáil Éireann in the Donegal South-West by-election on the 25 November 2010. He was re-elected in February 2011 and is a member of the Committee on Finance, Public Expenditure and Reform.
Deputy Doherty was a founding member of Ógra Shinn Féin and served on its national executive and is a native Irish speaker.
The Committee