Eoghan Murphy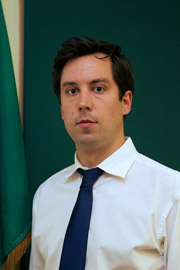 Deputy Eoghan Murphy is the Fine Gael TD for the Dublin South East constituency. He was elected to the Dáil in February 2011. Deputy Murphy is a member of the Public Accounts Committee and was previously Head of the Oireachtas delegation to the Parliamentary Assembly for the Organisation for Security and Cooperation in Europe (OSCE).
Before entering politics, Deputy Murphy worked in the area of international arms control, in particular on nuclear weapon disarmament issues. He served as an advisor and speechwriter to the head of the UN's nuclear weapon testing watchdog in Vienna, the CTBTO, until 2009 when he then returned to Dublin and was elected to the City Council.
Deputy Murphy graduated from UCD with a degree in English and Philosophy. He then achieved an MA in International relations at King's College, London, UCL. In 2013, he was awarded a Marshall Fellowship.
The Committee