Ciaran Lynch (Chairman)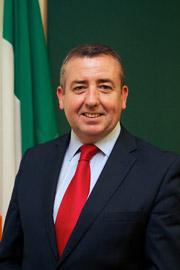 Deputy Ciarán Lynch is a Labour TD for the Cork South Central constituency. Read his introduction to the banking inquiry.
He served on the Cork City Council (2004-2007) where he partook in and chaired several forums and committees, including the HSE Southern Regional Health Forum (2006-7) along with Cork City Council's Planning & Development and Arts Committee (2006).
Deputy Lynch was elected to the Dáil in the general election of May 2007 and re-elected in February 2011. During his time at Leinster House, Deputy Lynch has worked, in particular, with Committees on the Environment, Heritage and Local Government. In June 2011, he was appointed chair of the Dáil Committee on Environment, Transport, Culture and the Gaeltacht and was elected chair of the Committee on Finance, Public Expenditure and Reform in October 2012.
Deputy Lynch studied educational management at WIT and social studies at UCC. His professional background is adult literacy and community education and he worked as Adult Literacy Organiser with the City of Cork VEC (now CETB) where he also served as a member of the Adult Education Board.
The Committee