Sean D Barrett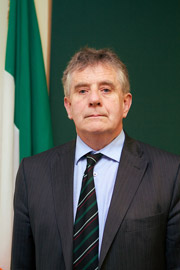 Senator Sean Barrett was elected to Seanad Éireann in 2011 by graduates and scholars of the Dublin University constituency and currently serves on the Committee on Finance, Public Expenditure and Reform. He is the senior lecturer in economics at Trinity College Dublin and has been a member of the Economics Department there since 1977. Senator Barrett has served several terms on the board of the college and has occupied a number of other non-teaching posts at the university, most notably that of Junior Dean.
Senator Barrett received his undergraduate and doctoral degrees from UCD and His master's degree from McMasters University in Hamilton, Ontario. Senator Barrett's main research focus and area of expertise is in transport and social policy.
In 1984, Senator Barrett worked as director of Bord Fáilte, where he focused on Irish airline deregulation. He has also served as a member of the National Economic and Social Council and on the Culleton Review of Industrial Policy and the Murphy Report on Ports. Senator Barrett has served on the transport committees of the European Union and the OECD and as external examiner at the universities of Ulster,Loughborough and Birmingham.
The Committee